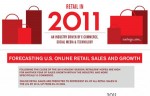 New year, new slate–but when it comes to forecasting retail trends for 2011, the trajectory set in 2010 provides some solid clues as to how sales and revenue figures will pan out this year.
And yes, I did say "trajectory"–because despite the rough economic conditions, online sales grew by almost 13% from 2009 to 2010 and that growth is expected to continue in 2011.
The road to revenue increases won't be smooth, however–predictions for 2011 forecast a bumpy path as consumers vacillate between spending and saving.