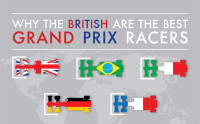 The 2013 Grand Prix season will be kicking off in Melbourne and with 22 drivers taking to the grid and 12 different nationalities representing their country we have proof why Britain will rule the roost this year.

Firstly, Britain has collected the most championship points throughout history. Secondly, in 64 years of Grand Prix over 25% of total races have been won by the British and thirdly, 22% of the fastest laps have been set by the British.
Britain also has a great ratio for turning drivers into winners and then to world champions for driver to world champions as Britain and America have each produced 19% of all Grand Prix drivers. But America has only have won the championship twice – Mario Andretti in 1978 and Phil Hill in 1961. In comparison the UK has also produced 19% and has won the championship 14 times.
With Lewis Hamilton's recent move to Mercedes, we will see a Britain driver a German car again, but history shows that only one British driver has ever won a race in a German car, the legendary Sterling Moss in 1955 at the British Grand Prix. So Hamilton might need a bit of luck this year.
British drivers also provide the best entertainment as 17.5% of crashes has been down the British and their thirst to entertain the crowd.
So that is why the British are going to rule the track this season. This infographic has been created by HostelBookers with information gained from reliable sources Formula1.com and the BBC. For more stats check out Hostelbookers blog.
EMBED THE IMAGE ABOVE ON YOUR SITE