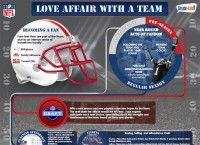 Infographic looks at fans' relationships with NFL teams; how they choose their loyalties and their 'acts of fandom' through the year.
As you might know, the NFL is coming to the UK, later this month when the St Louis Rams take on the New England Patriots. We can hardly wait so it's a fairly topical one at the moment!



StubHub is the secondary marketplace where fans can trade tickets to sports, gigs and live events. Part of the eBay group, it's proud to offer customers a service with no hidden fees!
EMBED THE IMAGE ABOVE ON YOUR SITE