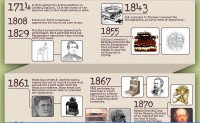 Before touch screens & computer keyboards, people all over the world used clunky devices called typewriters. When its keys were pressed, characters would be printed directly on to paper. Yes… PAPER!
Typewriters are basically the granddaddies of modern day laptops…



Infographic researched and produced by Infiniwiz – Chicago VoIP Services.
EMBED THE IMAGE ABOVE ON YOUR SITE