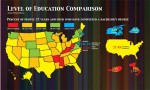 America prides itself at being THE BEST at a lot of things, but how do you think we measure up when it comes to education attainment?
Look around you – wherever you are – office, coffee shop… How many of the people over 25 years old have completed high school? College?
The answers will surprise you.
Check out the infographic and see how you rate against your fellow Americans… and how the US measures up against the rest of the world.



Via: Real Online Degrees