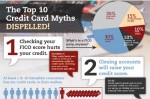 Many people believe that closing a credit card account will help improve their credit. Sadly, that's a myth – as is the idea that paying off your debts will immediately goose your credit score higher.
How many of these very common credit card myths did you think were true?


This Infographic Provided by Credit Cards Canada.
EMBED THE IMAGE ABOVE ON YOUR SITE