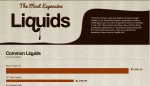 Clickinks.com conducted a study to reveal how expensive black printer ink is compared to other common liquids we use. Through online research and our own calculations we found out the cost per gallon of each liquid and drew comparisons.

Clickinks took this information and created the infographic below to show you how expensive black printer ink really is.
Created by Clickinks, an online distributor of printer
ink, offering discount prices for top printer brands including Brother, Canon, Epson, and HP ink.
EMBED THE IMAGE ABOVE ON YOUR SITE