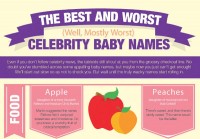 Colors, places, careers, numbers – all are now candidates for baby naming options. First names sound like last names, or cleaning products, or plants. And just when you think you've heard it all, you're left scratching your head over the latest and greatest to come from Hollywood.

EverydayFamily.com scouted the lists, looked at the stats, and even, sometimes, tried to get the story behind the name. Check out the trends, the top 10, and the best of the worst.

Brought to by EverydayFamily.com, provides expert advice and informative articles on everything from pregnancy symptoms to baby milestones and beyond.
EMBED THE IMAGE ABOVE ON YOUR SITE