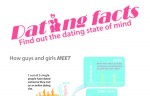 Thanks to online dating sites and social media, more and more people are casually meeting online.
Has it changed the way men and women feel about dating all together?
What is the dating state of mind nowadays?

Appoi collected data about dating from online sources and put them together in one infographic.


Via: appoi
EMBED THE IMAGE ABOVE ON YOUR SITE