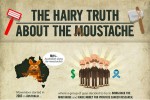 There is something odd going on this month, hundreds of thousands of men all over the world have something growing on their face. They are joining together and growing a moustache for Movember, with their Mo's, these men are helping to raise funds and awareness of men's health, specifically prostate cancer.
Sortable.com wanted to do something to help bring awareness to Movember and men's health issues. So they put together a quick and fun infographic about the Moustache.


Sortable The Hairy Truth About The Moustache. Go to Movember.com and make a donation today.
EMBED THE IMAGE ABOVE ON YOUR SITE