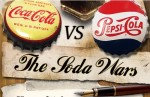 For over a century Coke and Pepsi have been at each other's throats in a constant struggle for a bigger piece of the billion-dollar soda market.
Along the way the companies have picked up a slew of loyalists and fans, adamant that their cola reigns supreme. While there are countless spots online to check out the history of either company cnntees decided to put together an interactive infographic, putting all cola war highlights together in one spot.

This infographic is extremely large, has multiple roll-overs and click-able regions. Depending on the speed of your connection this infographic might take a while to load, and could feel sluggish when you first start using it.
This infographic created by
CnnTees
. Read the
original blog here
.
EMBED THE IMAGE ABOVE ON YOUR SITE