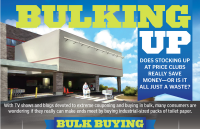 Everyone has seen the newest trend in shopping; extreme couponing and buying in bulk. However, when it comes down to buying a year's worth of toilet paper, is it worth it? Cheaponlinedegrees.org has created an infographic listing the numbers behind price club enrollment, whether shopping in bulk is worth it, and where to steer clear when it comes to shopping in bulk.
Sam's Club, Costco, and BJ's as the three largest warehouse clubs, boasting 122 million members combined. These clubs can save a family an average of $2,395 a year, by offering prices 31% lower than their grocery store counterparts. However, a family usually cannot find all their supplies at these stores, as they offer an average of only 4,000 items in their store. Large retailers like Wal-Mart and United Supermarkets offer upwards of 40,000 items.
Selectively shopping seems to be the key to saving money at these warehouse clubs. Use these memberships to purchase items such as alcohol, meat, spices, toilet paper, cereal, toothpaste, and household goods like batteries and light bulbs.
There are, however, areas to stay away from in these warehouse stores. With all items being offered in bulk, it's important to pay attention to expiration dates. Most families cannot use a year's worth of brown rice before its six month expiration date. Items like cosmetics, bleach, and condiments are also items to stay away from in warehouse clubs, as these also have a short shelf life. Other items like sodas may usually be found at lower prices in supermarkets.
Feel free to like, share, and comment on this infographic entitled "Bulking Up".


Source: CheapOnlineDegrees.org
EMBED THE IMAGE ABOVE ON YOUR SITE