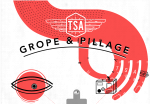 The Transportation Security Administration (TSA) thus far, has been more problematic than useful. The extreme surveillance of citizens, the NDAA implemented, ACTA signed which in essence censors our freedom of speech on the Internet and the TSA defines an imposition on our privacy in every area of our lives.

There is significant bipartisan opposition to the TSA – both parties noting that other steps would have been far more beneficial to our safety. Other avenues would have been far less costly as well and the cost for the TSA is staggering.
This infographic sums the TSA up quite well.


Created by: Online Criminal Justice Degree
EMBED THE IMAGE ABOVE ON YOUR SITE